Exhibitions
Studio A, Burbank, CA, 2002 - Present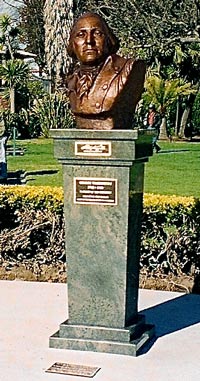 George Washington Unveiling, Watsonville, CA
Santa Cruz Art Center, CA
Photographers Forum Magazine, CA
Residence of Patty Ray, CA



Certificates & Awards
WOMANifesto 2012, Art by Women in the 21st Century
International Competition, Finalist
ARTAVITA 2011, International Competition
Second Place, Sculpture
George Washington Monument - Watsonville, CA, City Plaza. Winner of a Tri-county public competition to design & fabricate bronze bust of George Washington, life-size and a half bust with pedestal. 2000-2001
The Smithsonian National Portrait Gallery - Washington, D.C. Sculpture of George Washington is formally accepted into "The Catalog of American Portraits"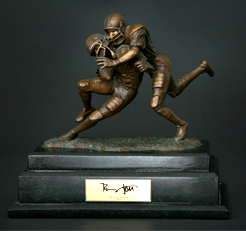 The Lott Trophy - Private commission to design-cast-fabricate bronze trophy for Ronnie Lott. Award: the college football Defensive IMPACT Player of the Year. 2003-2004
AWS Member - current member for 6 years
Formal acceptance to "Sculpture by the Sea," Australia's largest resource for interior & exterior sculpture. 2004
Certified Welder, SMAW-Structural - manual process
American Academy of Women Artists - member 2001 to present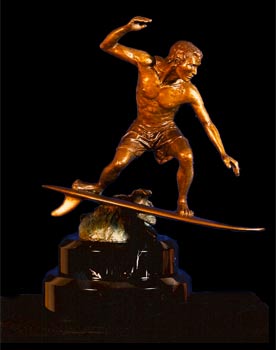 Seagate Technology, Inc. - Scotts Valley, CA. Designed & hand-cast thirty Bronze sculptures -trophies in the image of The Surfer.
NALU - installed as a permanent exhibit in The Surfing Museum, Steamers Lane, Santa Cruz, CA. Bronze surfer originally designed for Seagate Technology, Inc.
Santa Cruz Open Studios Awards
Juror's Award
People's Award
OS Artist Choice Award
Assistant to Richard MacDonald - Chosen from 1,000 applicants to assist with the fabrication of his work: build armatures, mold making and to clean-up and define final sculpture "hard copies" for production. During this time, "Flair Across America," a sixteen foot bronze gymnast was developed and sculpted for the entrance of the 1996 Olympics.
Jean Morrow Sculpture Scholarship Award 1989 & 1990
Walt Disney
Universal Studios
City of Watsonville, CA
Seagate Technology, Inc
Crazy Shirts, HI
Fear Factor
TLC/Discovery
Black Radio Exclusive