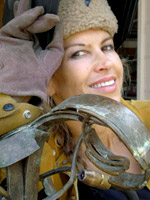 About The Artist
Michelle Armitage, also known as "Miche" (pronounced Meesh), is an experienced Artist with an extensive and diverse background in Sculpture, Painting and Design.
She describes her work as "Fine Arts with commercial application": An eclectic collection of original and specified art forms.
Armitage's artistic education started early having grown up in a family of Disney artists. She attended some of California's most prestigious art schools, worked as a freelance artist for more than two decades and has appeared "on-screen' in recent years.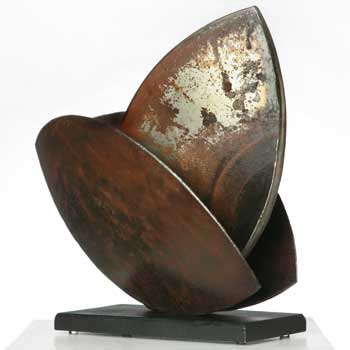 Armitage's mediums are predominately mild steel and silicon bronze. She often combines her metals with other materials like wood and stone and is drawn to the natural beauty of an untouched organic steel finish. However, she also enjoys experimenting with faux finishes and interesting color inspired from her background in painting and design. The approach to her sculpture is visceral and unique to each piece. All the artworks are "one-of-a-kind" signed originals (except for commissioned trophies.)
Her ideas also include inspiration from the shapes and finishes of older materials such as abandoned steel structures, tools and machinery. Much of this metal would be recycled or trashed, but Armitage has "rescued" the materials and given them a "second-life" completely out-of-context to their original forms.



Artist's Statement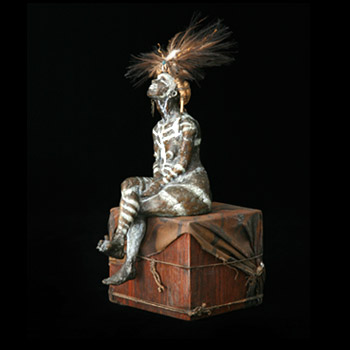 As a Sculptor / Designer of Fine Arts, I have explored a variety of subject matter. All these investigations have consistently drawn me to a study of visual imagination-characterized by the interplay of tradition and innovation. The contemplative balance of the organic and the industrial, the relationship of the old and the new, the past and the present.
I explore new possibilities for fabrication through intense involvement and recognition of both the process and the medium. Each piece realizes its own history, a history by living in the ancient wisdom of the imagination.
I enjoy the process of constructing and inventing new forms. Respectively, I strive to create a quality in the linear grace of the composition, an elegance that implies movement and vitality, that explores and celebrates spirit, beauty and form.


11:11

Education & Programs
Assistant Art Director
Junkyard Wars - TLC/Discovery
Design & build sets, props, and team trophies. Assist engineers to complete welds on team 'Machines' to meet structural & safety standards & requirements.



On-Screen Engineer/Welder
OP/JY-Operation Junkyard - TLC/Discovery. Team Lead/Safety Advisor, teach kids fabrication techniques, use of power/air tools, MIG Welding & safety procedures.

Local 729 - Motion Picture Set Painter and Sign Writers - current member.

College of the Canyons, Valencia, CA.
Welding program for certification


Cabrillo College, Soquel, CA,
Art Major



University of California of Santa Cruz, Santa Cruz, CA
Sculpture

Cabrillo College, Soquel, CA,
Teaching assitant to Vern Caron, Forging



Labroatorio Marmi de Silverio Paoli, Pietrasanta, Italia
Sculpture



University of California Los Angeles
Make-up for film, video, print, special effects

OTIS Parsons School of Design
Los Angeles
3-D Design

California Institute of the Arts
Valencia, CA
Sculpture, Conceptural Arts, Design, Photography